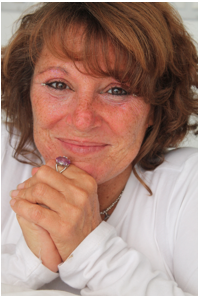 Lori Spagna radically transformed her life after a series of near death experiences while living in Maui. She is a best selling author of the book, 'How Psychic Are You?: 7 Simple Steps to Unlocking Your Psychic Potential' as well as 'Animals in the Afterlife' and 'Learn Animal Communication & Telepathy', as well as the author of the upcoming book, 'Two Years in Maui'.
Lori has over 20 years of experience serving humans and animals around the world and is an internationally recognized speaker, author and teacher who provides seminars and workshops for spiritually minded animal lovers about how we can improve our lives by learning from animals.
As a Spiritual Teacher, Visionary, Lightworker, Starseed, Intuitive and Healer, Lori teaches about Ascension and acts as a guide to awakening Spiritually Minded Animal Lovers, Lightworkers, Starseeds and Wayshowers.
Lori provides transformational experiences for people and animals as she assists them in aligning with their true Source. She also teaches classes on Animal Communication & Telepathy, Intuitive Development, Connecting with Your High Self, Animals in the Afterlife, Locating Lost Animals, The Akashic Records, and Spiritual Dog Training for Masters.
Lori also leads powerful manifestation and healing circles where she assists people and their pets to improve their lives by tapping into their true power via The Universal Source which exists within and connects us all. Lori also provides Sacred Energy Activations, Healing Transmissions and DNA Upgrades for people and animals.
Lori is founder of efil's god Spirit, efil's god and efil's god Dog Training, which focus on a spiritual, holistic approach to communication and healing for the mind, body and spirit in every living being. She is a Professional Psychic Intuitive, Animal Communicator, Energy Healer, and Empowerment Coach as well as a Canine Behavioral Expert for the Spiritually Conscious.
She was personally trained by a Master Dog Trainer who spent 20 years training service dogs for the United States Government at Lackland Air Force base. She also traveled extensively throughout the world as a volunteer, working with an extensive variety of animals in all kinds of situations and environments.
Lori is certified as a Reiki Master, Reiki Master Teacher, Theta Healer, EFT Practitioner, Akashic Records Reader and Healer, Animal Communicator, Canine Behavioral Expert, and also practices many other powerful and effective energy healing techniques.
"I help people have a two way dialogue with their animal companions and I also teach people how to tap into their true power via The Universal Source which connects us all to live their best lives ever, via the everyday lessons we learn from our own animal companions and the wisdom and healing they share with us!"