Extra Bonus Gifts for Starseeds and Lightworkers
Are YOU a Lightworker, Starseed,
Guardian or Way~show~er?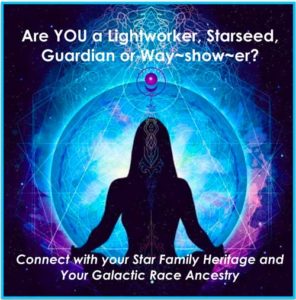 Are you familiar with the terms,
Guardian Races and The Indigo Tribes?
Are you aware of your Star Family Heritage
and Your Galactic Race Ancestry?
If these terms haven't already thrown you slightly 'off kilter', you very well may likely be a Lightworker, Starseed, Way-Shower, Guardian and a Member of The Indigo Tribes and The Galactic Family Ancestry.
During this GIFTED ~ FREE mp3 class and in this mini-ebook pdf, you will discover and uncover exactly what these terms mean and you will also come to know if it applies to you.
You don't have to understand these terms, but you do likely have some kind of calling from deep within you that you:
Know there is something way more than what we on planet earth have been led to believe
Know that you are here for a reason – and that something is calling to you that goes way beyond the physical reality we have been living  in
Are much more sensitive, empathic, caring and understanding than most other humans around you
You care deeper and more fully than others and you are searching for a way to make this world a better place and you are seeking a better and broader understanding of who you are and what you came here to do…
There is so much more….
Get YOUR FREE Content RICH mp3 Class
and Mini ebook pdf Here!
Enter your email and your name, click "Sign Up" and then check your email.
Your FREE gifts will be on their way into your in box!
(Be sure to notify your email host to accept emails from
[email protected] and [email protected])