Learn, Understand and Apply The Laws of The Universe
Learn, Understand and Apply The Laws of The Universe
Applying The Universal Laws To Radically Transform Your Life…
…and Use Them To Live Your Best Life Ever!
The Universal Laws are not theory or speculation. They are real, valid Laws of the Universe which are governed by The Divine and are validated in  modern day Physics.
They are unbreakable laws of The Universe which apply to all of our existence…they apply to us, to our lives and to everything and everyone.  These Universal Laws are governing us, regardless of whether or not people are aware of them…they are indeed, in place.
In fact, they are now being measured and validated scientifically. Whether people realize it or not, the entire planet, in fact, the entire galaxy and all of existence is operating under The Universal Cosmic Laws which govern order in the Universe.
They are unbendable, unmutable, unbreakable laws defined by Quantum Physics, which govern us all. These laws are universal, which means that they apply to everyone, everywhere, no matter what ~ whether we know it or not ~ and they are the driving forces of our personal life experiences.
Most people have no idea about these laws because up until recently, we really weren't able to translate the laws of physics into everyday, laymen's terms, ie, human vocabulary and apply this information to our everyday lives.
Unfortunately, because most folks have no idea about these Universal Laws, the same people are actually operating in ways that work against the very universal laws which would serve them best, if only they had any idea of what they are and how they work.
Learning these laws will help us develop our ability to align with energies necessary to co-create the reality we truly desire in our lives.
Imagine being able to create the life YOU were born to live, in a way that brings joy to YOU and to those in YOUR world, and to be able to do this in a way which provides the maximum amount of assurance that the end result of success is virtually guaranteed!
It doesn't matter who you are…it doesn't matter where you live, what you do for a living, whether you are young or old, if you are a male or a female, rich or poor, formally educated or a student of the school of hard knocks, and it is definitely not about your karma…
It doesn't matter what your age, race, ethnicity, gender, religion, income level, geographic location, etc. We are all operating under the Universal Cosmic Laws. Nothing and no one escapes the Universal Laws, it's just that some people know how to use them and others don't.
When you discover the Universal Laws, you discover the source of all health, wealth, happiness, joy, peace, harmony, abundance and fulfillment in every area of your life.
In light of this, it behooves you to begin to understand them, because otherwise, you may remain victims of them, rather than the conscious creators of our own choices, our own lives, our own path and our own destiny.
Once you understand these Universal Laws and once you also understand exactly how to apply them, you will be able to create and live the life of your greatest desires, hopes, wishes and dreams… or what I like to call, YOUR BEST LIFE EVER!
This course is all about helping you to understand and apply the Laws of The Universe to all areas of your life, so you can indeed, live your best life ever.
This course will empower you with the full knowledge and explanation of these Universal Laws and show you exactly how you can begin applying them in your own life, to experience greater joy, abundance, and fulfillment.
Once you really learn this laws, and you begin to align with them, and apply them to your life, you will easily and effortlessly begin to release all of your old fears, doubts, worries, anxieties, or frustrations you might have had in the past, particularly about issues in your life like money and wealth, career success, health and well being, as well as the manifestation process.
Learning to apply these laws will also help you to realize that the so called outer authorities in the world..aka, those posing as officials in governments and legal situations and circumstances have no real authority over you…you begin to claim your true sovereignty and your divine birthright to real and true, irrevocable freedom.
Here's what happens when you start learning and applying these laws to your life:
You will begin to realize that you have limitless potential to create a life of your dreams
You will achieve your goals, dreams and desires more effortlessly
You will find it easier to attract what you want into your life
You will begin to live more abundantly and more prosperously
Your relationships with others will dramatically improve
You will enjoy your life more and live a more satisfying, more fulfilling life
You will become more optimistic, more inspired and more positive about your life and also about your future
You will live your life with more passion and you will feel more inspired in all areas of your life
You will get more in alignment with your own inner knowing, your inner wisdom and your inner awareness
You will learn how to transform the things in your life which you are unsatisfied with
You will release all fear, worry, doubt and anxiety about whatever has bothered you in the past
You will begin to trust yourself more
You will learn exactly what steps you need to take to move in the direction of creating the life of your dreams
Release and Transcend all Fear, Worry, Doubt and Anxiety about Whatever
Has Bothered You In the past and Live Fear Free
PLUS! When you purchase this home study class, you will also receive the following extra bonus gifts:
Lori's original ebook and double audio mp3 program entitled,
"Using The Universal Laws to Radically Transform Your Life
and Live YOUR BEST LIFE EVER!"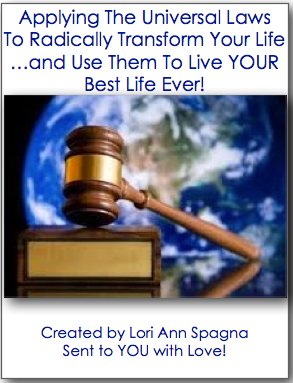 Valued at an additional $99
PLUS!
You will also get Lori's ground breaking 60 minute mp3 Class:
"The Truth About Karma: It's Not What You Think It Is…"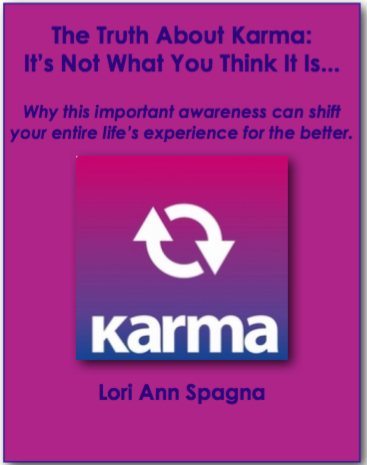 Valued at an additional $50
PLUS!
You will also get Lori's ground breaking 90 minute mp3 Class:
"Your Greatest Potency:  The Amazing Power of Free Will
How to Use It Consciously to Change and Shift Your Life and The World"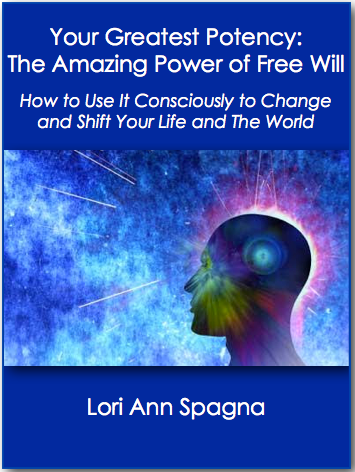 Valued at an additional $50
This entire course contains 3 downloadable mp3 classes from the LIVE tele-course, plus the extra bonus gifts mentioned above, including the downloadable audio mp3 of the ebook and the downloadable ebook pdf to work with and follow along with to make this learning easy and fun as well as the two extra bonus classes, "The Truth About Karma" and "Your Greatest Potency", all together valued well over $500.
The retail value of this course is $299 ~ and that really doesn't even begin to include the real value of this course since learning and applying this information will enable you to transform your life and reap the benefits of living your best life ever!
Start Allowing The Laws of The Universe ~ The Universal Laws ~ To Support and Assist You NOW ~ To Work with YOU and For You, So You Can Live YOUR Best Life Ever!
This comprehensive home study webinar and training program happens only once each year. Currently, registration is closed. Enter your name and email address below to learn more about the program and when our next enrollment period begins. You will also receive periodic gifted classes, materials and relevant information.
*Special discounted offer rates cannot be combined with any other special offers, discounts or coupons. Advanced discounted tuition rates on classes are non refundable. Class tuition is transferable to other classes and workshops for a small transfer fee. For additional information on our refund policy, please click here.