Swim with the Wild Dolphins in Bimini, The Bahamas
Communicate and Heal with The Dolphins
Sacred Connection & Transformation Retreat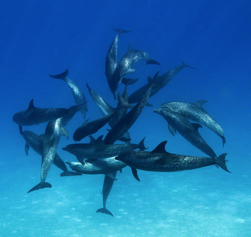 Sunday, August 27th – Saturday, September 2nd, 2017
Space is Extremely Limited and Books Up Early ~ RESERVE NOW!
Spend a week swimming with the dolphins in their natural habitat during daily boat journeys to swim with the wild dolphins in the pristine waters of Bimini.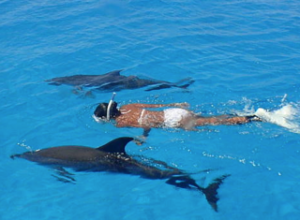 Learn all about our Sacred Healing & Communication Dolphin Retreat and receive LIVE Energy Healing from The Galactic Dolphins of Bimini, The Bahamas:
http://iTeleseminar.com/86150829
and:
http://ds1.downloadtech.net/cn1086/audio/633515021061597-001.mp3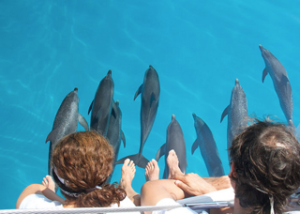 You'll also be actively learning about and practicing Animal Communication and Telepathy plus participate in POWERFUL, LIVE Energy Healing Circles for the dolphins and for all animals globally (including our pets and ourselves!), with Internationally Acclaimed, Best Selling Author, Animal Communicator, Intuitive & Energy Healer, Lori Spagna.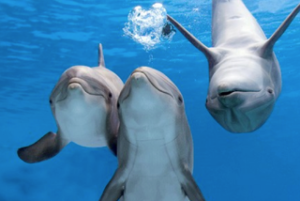 Plus, we'll also participate in powerful live Sacred Energy healing circles. This is your opportunity to make a significant contribution for animals. We'll be taping into Universal Energy that connects all animals on the planet for the good of all animals, while simultaneously being part of positive global change and improvement for all living beings, including yourself and your pets, all while having a fabulous time in the process!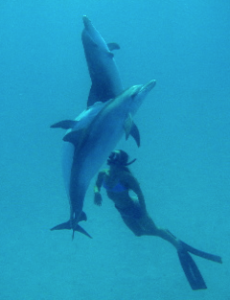 We'll experience a juicy and delightful combination of personal one on one support, private and quiet reflection and contemplation, intimate connection with nature, and inspired communion with the dolphins and one another.
There will also be plenty of time to relax, heal, refresh, rejuvenate and play in an absolutely gorgeous, loving, supportive and nurturing environment.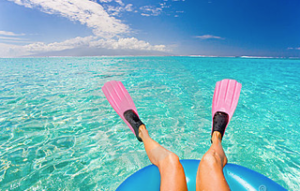 Many people have had miraculous healings simply by being in the presence of the dolphin, who consciously carry the energy and frequency of joy, love, heart expansion and true abundance…just being in this paradise will facilitate transformational healing as well as personal and spiritual development and evolution.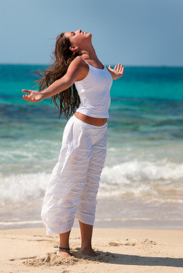 Each participant will also be able to choose to participate in the following group activities:
Animal Communication and Telepathy
Mediation
Transformational Energy Healing
Sacred Activations, Upgrades and Downloads, including DNA & Lightbody Activations
Ascension Updates
Manifestation & Healing Circle
Fire Ceremony (weather permitting)
Personal Readings & Angelic Guidance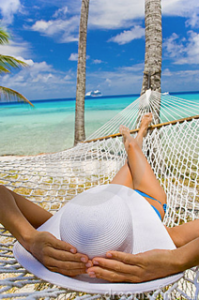 Have you been looking for an opportunity to play and have fun, relax and heal and rejuvenate while expanding your own spiritual awakening and consciousness and simultaneously making a real and significant contribution to animals and the earth in a truly meaningful way?
If so, then this is the adventure YOU have been waiting for!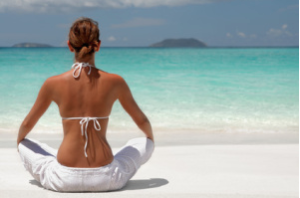 In addition to all of the magnificent experiences above, you'll also spend this week:
Tapping into a deeper and more profound aspect of embodying your highest and greatest joy, happiness, health and well being
Aligning with your highest and purest vibration; your Divine Self
Reconnecting with your true sacred essence and your soul's highest mission and agenda for you ~ To be the love and joy that you truly are
Experiencing a gentle, loving and compassionate transformation
Expanding your consciousness and awareness as well as being fully present for your own personal and spiritual growth and evolution
Assisting in anchoring an energetic vortex of pure love, peace, harmony and oneness for all animals and all of life on planet earth
Emerge more authentically connected to your true divinity…
Beyond the service we will be contributing, this retreat is also designed to allow you to move beyond the limitations of everyday reality… and into a new, more natural, awakened, enlightened way of living and of incorporating more love, joy, ease and grace into your life.
Simply put: You will never be the same again…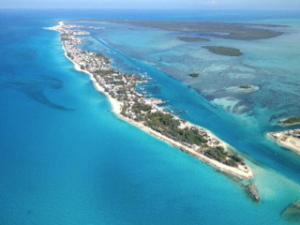 The island of Bimini it is a small, relatively unpopulated, somewhat underdeveloped, very one-derful place.
Bimini is located just 50 miles off the coast of Florida, but it feels like another world. It is absolutely Sacred in its own unique way.
Bimini is officially part of the Bahamas, so you'll need your official passport to travel there.
The pristine waters are home to Atlantis, the underground, ancient city known to be home to our ancestors.
The dolphins who inhabit these waters are truly conscious and evolved beings who are here to assist us in our awakening and transformational process on planet earth.
I look forward to sharing this with everyone who feels called to participate in this extraordinary retreat.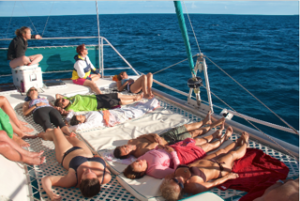 This Retreat is for:
Spiritually Minded Animal Lovers, Animal Advocates and Animal Communicators
Energy Workers and Healers
Lightworkers, WayShowers, Change Agents, Starseeds, Indigo, Rainbow and Crystal Children
Psychics/Intuitives
Yogis/Yoginis/Sacred Dancers
Spiritual Practitioners and Spiritual Enthusiasts
Awakening Beings Everywhere
YOU!
Join us for an extra ordinary retreat unlike any other…
Please click here for additional information and to register ~ $2295
BE SURE TO APPLY THE PROMOTIONAL CODE: LORISPAGNA for special savings off the regular rate
You can also email us directly at Info@efilsgod.com for additional detailed information about this retreat.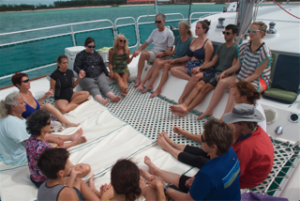 This Complete Retreat Package Includes:
Your stay in one of several new comfortable accommodation options, double occupancy.  Optional private rooms are also available for an additional supplement.  These are given on a first come first serve basis – so please book early to guarantee yourself a private room!
Daily boat excursions to see, interact with and swim with the wild dolphins of Bimini (chartered specifically for our group and hosted by the Wildquest team). We will also be able to snorkel and explore the famous Atlantis Bimini Road ~ Weather permitting, of course : )
3 Delicious, all natural, mostly organic, gourmet, life vitalizing meals per day – to nourish and support you – served and enjoyed in a waterfront dining room
Optional daily and evening events as described above – customized with love to the specific needs and desires of our group
Transformational sessions with Lori in a loving, supportive, nurturing environment
Excellent snorkel gear is also available for rental in Bimini; or bring your own if you prefer
Other equipment for extra-curricular fun activities, including bicycles for riding, kayaks for kayaking and canoes for canoeing
And so much more, including many additional unique gifts and surprises
Join us for an extra ordinary retreat unlike any other…
Please click here for additional information and to register ~ $2295
BE SURE TO APPLY the PROMOTIONAL CODE: LORISPAGNA for special savings off the regular rate
You can also email us directly at Info@efilsgod.com for additional detailed information about this retreat.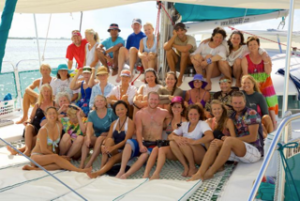 About the WildQuest Team
The WildQuest Team is an international, unique community of individuals, each with their own very special flavor. They will support you on land, on the boat and in the water, creating a once in a lifetime experience.
You are welcomed into a safe and loving space here at WildQuest that allows relaxation to happen, the feeling of being at home.